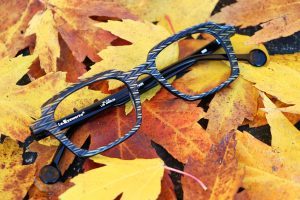 l.a. Eyeworks,  http://www.laeyeworks.com/
l.a. Eyeworks is our newest brand that brings fun, inventive and creative eyewear to our collection. l.a.Eyeworks began on September 9, 1979 when Barbara McReynolds and Gai Gherardi opened a single storefront on Melrose Avenue in Los Angeles, California. The original whim for this adventure? To challenge the prevailing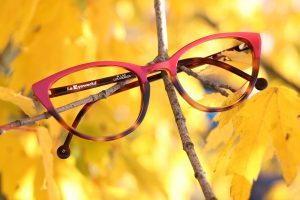 norms of eyewear with proposals for a new, provocative revelation of the face. More than three decades and hundreds of frame designs later, l.a.Eyeworks remains a privately owned house of optical imagination, encompassing two namesake retail stores in Los Angeles and a wholesale company that channels its influential designs to a global network of independent opticians and retailers.
"We design eyewear to celebrate the diversity of faces and the uniqueness of individuals. The glasses we make are sparks of our imagination. You complete these thoughts and bring the dreams of l.a.Eyeworks into being." — Barbara McReynolds & Gai Gherardi
The photo of this Oakley frame was taken at Kerry Park in Queen Anne with the Seattle skyline reflecting in the mirror lenses. "I wanted something dynamic that would show the diversity and modern side of the sunglasses."  Click to enlarge the photo revealing the Space Needle.  – Jenny Bailey
Oakley continues to be a leader in sunglass frames as well as prescription, every day frames.  We carry a variety of both and they appeal to young and mature audiences.  Oakley products are wearable, durable and have a fabulous fit for many face shapes and sizes.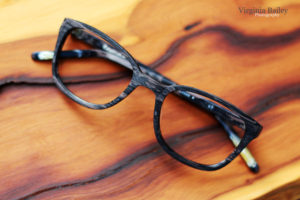 SHO EYEWORKS,   http://sho-eyeworks.com/
Everyone who loves texture and color, rich styles and an edgy look should check out Sho Eyeworks!  Metals or plastics, Sho Eyeworks offers a variety of size and color.  "SHO EYEWORKS derives its name and inspiration from the word shokunin. As the shokunin, or Japanese artisans, utilize their honed technical skills for the benefit of society, SHO EYEWORKS applies their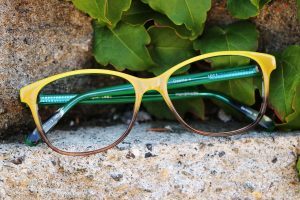 expertise and experience to develop quality eyewear. The social obligation to better society, a principal belief of the shokunin, inspires us at SHO EYEWORKS to ensure each of its products improves both the quality and lifestyle of each wearer."
Roger Eye Design,    http://rogereyedesign.com/Home.html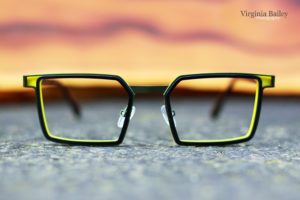 Check out Roger Eye Design's fashion forward eye wear, unique and very different for the person who loves flare and color.  Dare to be different in Roger styles!
Jenny photographed this vibrant pink frame on a textured background found outside of our office.  The contrasting colors of pink and yellow scream COLOR and FUN!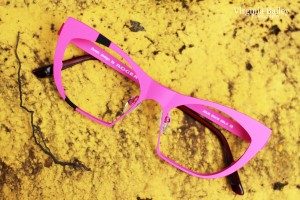 "Roger Eye Design is founded in 2007 by Roger Hoppenbrouwers. Roger started RED from an optician's point of view, with over 25 years of experience and a nose for trends. Because of the overall standard sizes by the big design houses, he bumped into a shortage of smaller- and "progressive" sizes.
Well…a simple solution for a creative mind."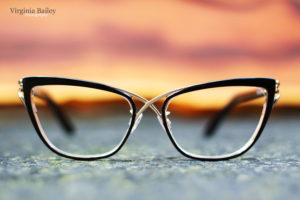 Tom Ford,   http://www.tomford.com/eyewear/
Tom Ford – Thomas Carlyle "Tom" Ford – American fashion designer and noted film director. He is well known for his creative contributions for Gucci and Yves Saint Laurent.  The"Tom Ford" label was launched in 2006.  It's been a hit in all aspects of the fashion industry and we are fortunate that the label includes exquisite eye wear for both men and women.   Jenny shows off this TF frame by accenting the background color contrast from sunset orange to pebble gray in this photo.  Anyone who loves clean lines, clean design and sleek styles should take a look at what the Tom Ford line has to offer.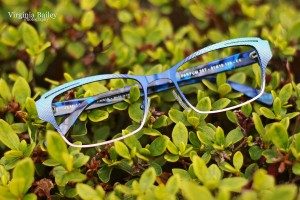 Lafont,  https://www.lafont.com/index/
Lafont is an elegant, classic line with a twist. With men, women, children and sunglass frames you have lots of variety to choose from. This brand is handmade in Paris, France and has won multiple awards worldwide, such as the best women eyewear of year in TOKYO in 2006, best sunglasses of the year in 2006 in Paris, or best kids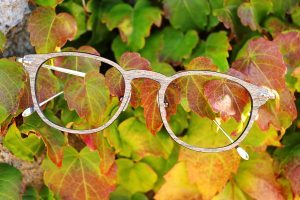 eyewear of the year in 2000 and 2007 at the Silmo in Paris.
"Every new frame starts from a blank sheet, where inspiration and knowledge will combine. The sources of inspirations are multiple : art galleries, travel, deco expo, books, photos, etc… Each LAFONT frame has its own design, pattern, and colours. Each LAFONT frame is exclusive."